Dover has it's own primary school, St Richards and a secondary school, St Edmunds to support the Catholic education of our parish.
Please click on the link below for more information on these schools.
Presentation to Mrs J Chapman, St Richards.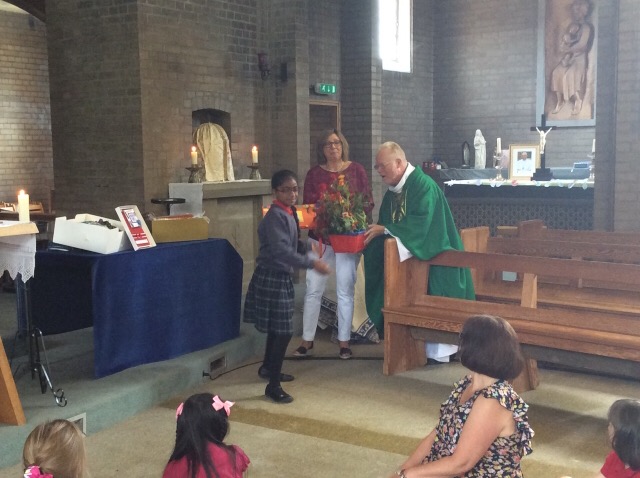 Mrs Chapman, Head Teacher of St. Richards, is due to retire at the end of the summer term 2017
On 25 June the Parishoners of Our Lady's invited her to come to the morning Mass so that we could all show our appreciation of the work she has done over the last 7 years to bring the school forward.
The Chair of the Governors, Mr Andrew Rogers, spoke of the improvements which had been achieved at St. Richards.
Mrs Chapman was presented with a card from the parishioners, a card made by the children and a reminder of her time at St. Richards, an icon which was handmade locally and shows St. Richard.
At the end of Mass Mrs. Chapman cut a cake which had been made by a lady in St. Margaret's. It shows the school logo, the material of the new uniform skirts which were introduced by Mrs. Chapman, and has 4 scenes from Dover around the sides. See below for photos of the event and the cake.