Welcome to our website for Our Lady of Dover in the parish of Buckland which also includes the Chapel of St Francis in St Margaret's Bay. We are part of the Archdiocese of Southwark covering South London and Kent.
Father John Panario
01304 823402 This email address is being protected from spambots. You need JavaScript enabled to view it.
___________________________________________________________________________________________________________________________________________________
What's new on the website:
Light Party See Below
Recent Anniversaries In Parish News section
Light Party: A Virtual Party on 17th October 2020
We are launching our

Virtual Light Party

for primary aged children

on 17th October 2020 at 2pm

The Light Party Team have concerns about the activities around Halloween and so for the last three years our ecumenical team has offered, what we think is a better alternative in the form of Light Parties in churches across Dover. This year of course it is not possible due to Covid-19 restrictions so this Virtual Light Party comes to you instead.

Please find attached your invitation link to our Light Party Channel on Youtube which will go live on 17th October at 14.00 and can be viewed anytime there after. We have also included our Activity Pack which your child/children can enjoy at home.

With kind regards

The Light Party Team
Stay Safe Have Fun Share Jesus

Covid-19 – all those appearing together in some of the video clips are in family groups or bubbles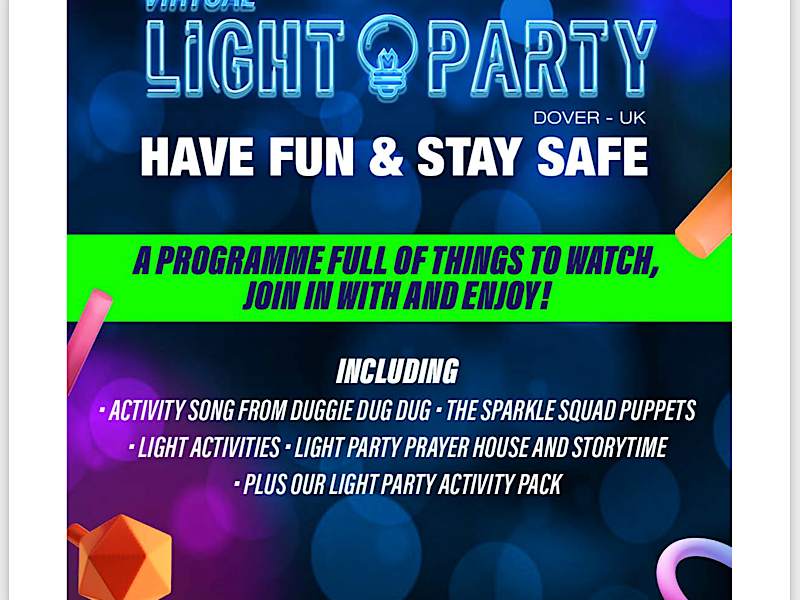 Light party
Activity pack
2020
Surprise Prayer Activity
This prayer activity is all about making a Prayer Cube and the prayer you pray depends on how it lands when you roll it. SURPRISE!!!!!!
YOU WILL NEED:
A piece of thin card or thick paper
Felt pens or colouring pencils
Glue stick & scissors
WHAT TO DO:
Cut out the cube template, if you can print it off, IF NOT copy the template shape.( you might need someone to help you with this)
NOW:
Put the words below into the squares – one word in each square. Then decorate as you wish with felt pens or pencils around each word.
Praise God Thank You
Sorry Please
Help me Help for others
Once you have done this you can glue each tab and make it into the cube.
PRAYER TIME
Roll the cube and if it lands on 'Thank You' say a Thank You prayer. If on 'Sorry' say a Sorry Prayer and so on. You won't know what sort of prayer you will pray until it stops rolling. Have Fun.
Draw this template using a ruler - each square has sides that are 4cms by 4cms and don't forget to put the tabs on before you cut your template out.
COVID-19: REOPENING OF CHURCHES
We have re-opened to parishioners at the usual times, and will, God willing, continue from now on ;
10-30am and 6pm Sundays at Our Lady's and 9am at St. Francis on Sunday and Wednesdays.
We are social-distancing at two metres, and so think we can accommodate around 50 people. The Government has now made it compulsory to wear face-masks unless you are exempt from doing so, and we can supply them if anyone wants one.
A welcome team is on hand to help those who come. The Mass is kept to the minimum, and receiving communion is explained just before that point in the Mass.
Of course, anyone who is shielding should remain at home, as well as anyone who is wary of going out.
Father John.
Social-distancing at the 10.30am Mass on Sunday July 27th.
CTID PRAYER DIARY
CTID have produced a prayer diary which has been circulated to churches of all denominations to encourage us to pray for these church communities each day.
NEWSLETTER
We have resumed production of the weekly parish newsletter which can be found by using the Newsletter tab at the top of the home page
LIVE-STREAMING DETAILS:
www.church services.tv gives access to many parishes in the UK
www.churchservices.uk/dover gives access to St. Paul's, Dover
but you can also use www.mass-online.org
Another useful Website is www.walsingham.org.uk
For our younger parishioners, CAFOD have an online Children's Liturgy for Sunday morning
CONGRATULATIONS TO FATHER JOHN
WHO CELEBRATED THE 50th ANNIVERSERY OF
HIS ORDINATION LAST WEEK.
TO MARK THE OCCASSION, FATHER WAS PRESENTED WITH A
FRAMED PAPAL BLESSING BY DEACON BARRY.
FATHER JOHN WOULD LIKE TO EXPRESS HIS THANKS TO EVERYONE FOR THEIR GOOD WISHES ON HIS ANNIVERSARY.
Unfortunatly due to the current situation, the celebration which was to take place in June has been postponed until it is safer for all to hold a large gathering.
Details of the revised date will be made available when possible
SUNDAY 28th JUNE 2020
ST. PETER & ST. PAUL, APOSTLES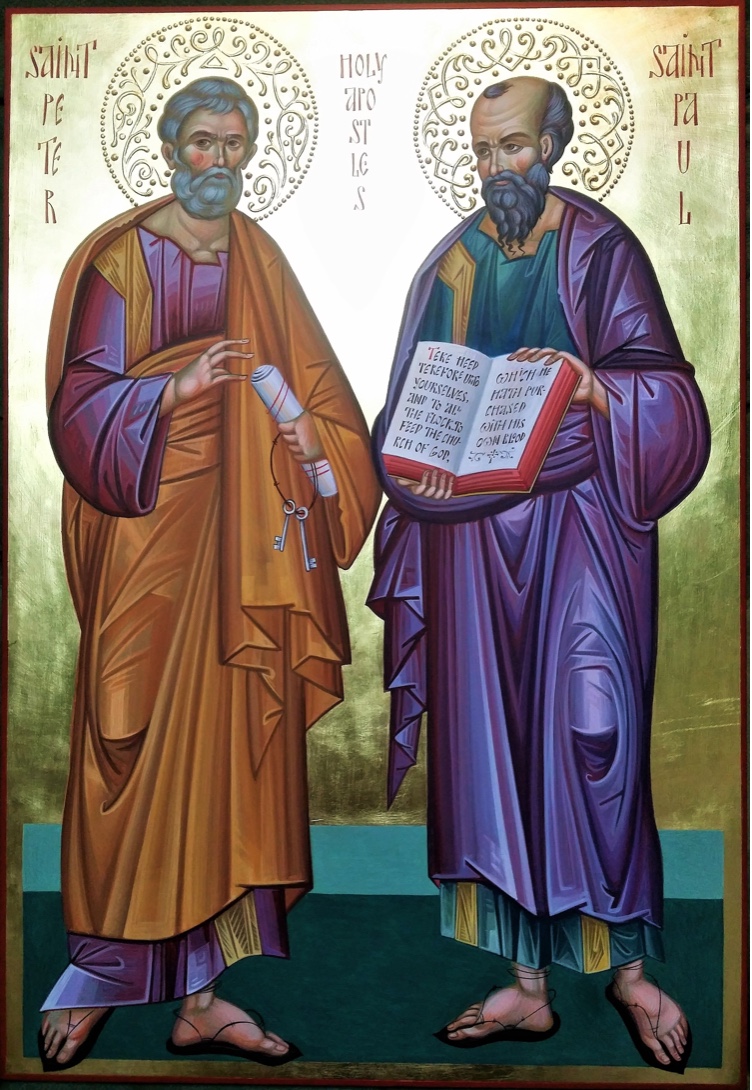 LIVE-STREAMING DETAILS:
www.church services.tv gives access to many parishes in the UK
www.churchservices.uk/dover gives access to St. Paul's, Dover
but you can also use www.mass-online.org
Another useful Website is www.walsingham.org.uk
For our younger parishioners, CAFOD have an online Children's Liturgy for Sunday morning
--------------------------------------------------------------------------------------------------------------------------------------------------------------------------------------------------
WISHING EVERYONE A HAPPY EASTER
CHRIST IS RISEN, ALLELUIA

HE IS RISEN INDEED, ALLELUIA
EASTER URBI ET ORBI
On Easter Sunday Pope Francis prayed for those suffering due to either global conflict or the coronavirus, saying Christ's resurrection brings both light and hope to the darkness of an oppressed and suffering world.
"Like a new flame this Good News springs up in the night, the night of a world already faced with epochal challenges and now oppressed by a pandemic severely testing our whole human family,"
Easter, he said, offers humanity "a different 'contagion,' a message transmitted from heart to heart - for every human heart awaits this Good News. It is the contagion of hope," he said, insisting that it's not a "magic formula" that makes humanity's problems disappear.
Pope Francis called for debt relief for impoverished nations, easing of international sanctions, relief for the unemployed, European solidarity, and an end to armed conflicts, all styled both as a response to the pandemic and an expression of the Easter spirit.
"The resurrection of Christ … is the victory of love over the root of evil, a victory that does not 'by-pass' suffering and death, but passes through them, opening a path in the abyss, transforming evil into good. This is the unique hallmark of the power of God,"
For the full text please follow the link:
www.vaticannews.va/en/pope/news/2020-04/pope-easter-urbi-et-orbi-blessing.html
__________________________________________________________________________________________________
POPE FRANCIS URBI ET ORBI MEDITATION (March 27th)
To read the full text, in which the Holy Father speaks on calming the storm,
please use the folowing link:
https://www.vaticannews.va/en/pope/news/2020-03/pope-francis-urbi-et-orbi-blessing-coronavirus.html
HOLY WEEK 2020
For most of us it will be an unusual experience Easter without attending Mass in the parish. There are a variety of live-streaming options listed further down this page which present us with opportunities to take part in the liturgy during this difficult time.
Saturday 11th April HOLY SATURDAY
(SWIECONKA, the Blessing of Easter Baskets, the Eastern European Catholic tradition which normally takes place in the Church, cannot go ahead this year.
Families may like to use the traditional prayers to bless their baskets at home or, if you wish, you can use your own prayers or grace.
For the traditional prayers in Polish and English, please click HERE )
During Holy Saturday, the day the church is empty like a tomb.
At night-time, passages from the word of God unfold God's work for our salvation from sin and death: the Easter Candle, symbol of Christ risen, is lit and carried into the sanctuary.
The new Life of the Resurrection is proclaimed.
As Easter People, Alleluia is our song.
On Easter Sunday the Pope's Urbi et Orbi message will be broadcast on BBC 1 at 11am but it is also available online or from the Vatican News App.
NEWSLETTER FOR 12th April EASTER SUNDAY click HERE
_____________________________________________________________________________________________________________________________
JUST A WORD ABOUT WEEKLY COLLECTIONS
Some of you have been asking how you can continue to support our parish while there are no weekly collections.
We understand that this is a time of financial uncertainty and difficulty for many people, but for anyone in a position to continue contributions to the parish, there are options:
If you would like to make your donations through BACS, Standing Order, cheque or telephone,
please download the PLEDGE FORM by clicking HERE
then please complete it and return it by email to Father John, or post to The Presbytery, 24 Old Park Hill, Dover, Kent. CT16 2AW.
Or to continue using envelopes, please keep them return them to the parish when Masses restart.
If you would like to make an online payments through Justgiving, the Archdiocese has set up Webpage at www.justgiving.com/campaign/parishsupport
It is fairly simple to use but please ensure you put the name of
our Parish: Our Lady of Dover, Buckland
and what the donation is for, e.g. Weekly Collection, or Easter Gift to the Clergy
or other specific purposes.
Please Gift Aid if you are in a position to do so.
——————————————————————————————————————————————————————————————————————————————-
Coronavirus (COVID-19)
As most people will now be aware, to protect the community – particularly the most vulnerable – and to limit the spread of COVID19 as far as possible, public acts of worship have been suspended. Please help everyone to stay safe at this difficult time by following advice from the Public Authorities.
Although we are not able to join in the celebration of Mass in person, there are televised Masses and others available online, which we can follow and along with whom we can pray.
There are a variety of Websites offering links but the Catholic Bishops have suggested
but you can also use www.mass-online.org
Another useful Website is www.walsingham.org.uk
This gives access to a range of services and prayers through the day including the Angelus at 12 noon followed by Holy Mass and adoration. It will be particularly useful today so that we can all be part of the events when the Bishops of England and Wales reconcecrate England as the Dowery of Mary.
There is more information on the Website of the Catholic Bishops Website www.cbcew.org.uk
and if you would like to hear Bishop John Wilson speaking about the re-dedication please follow the link to www.behold2020.com
TO LIVE-STREAM MASS FROM ST. PAUL'S DOVER EACH DAY USE THIS LINK:
AND FOR OTHER PARISHES IN SOUTHWARK ARCHDIOCESE THE LINK IS:

www.rcsouthwark.co.uk/media/
For our younger parishioners, CAFOD have an online Children's Liturgy for Sunday morning
For our Parish Newsletter for Sunday 22nd March click HERE
During the week Pope Francis also offered the following prayer for Catholics
wishing to make a spiritual communion:

At your feet, O my Lord Jesus
I prostrate myself and offer you repentance of my contrite heart,
which is humbled in its nothingness and in your holy presence.
I adore you in the sacrament of your love.
I desire to receive you into the poor dwelling that my heart offers you.
While waiting for the happiness of sacramental communion, I wish to possess you in spirit.
Come to me, O my Jesus, since I for my part, am coming to you.
May your love embrace my whole being in life and death.
I believe in you, I hope in you, I love you. Amen

*******************************************************************************************************************************************
WEEK BEGINNING 22nd MARCH
Pope Francis called everyone to pray the Our Father together
On Wednesday 25 March, on the Feast of the Annunciation, at 11am UK time (midday Rome), Pope Francis asked us to join together to pray the Lord's Prayer as a response to the COVID-19 pandemic.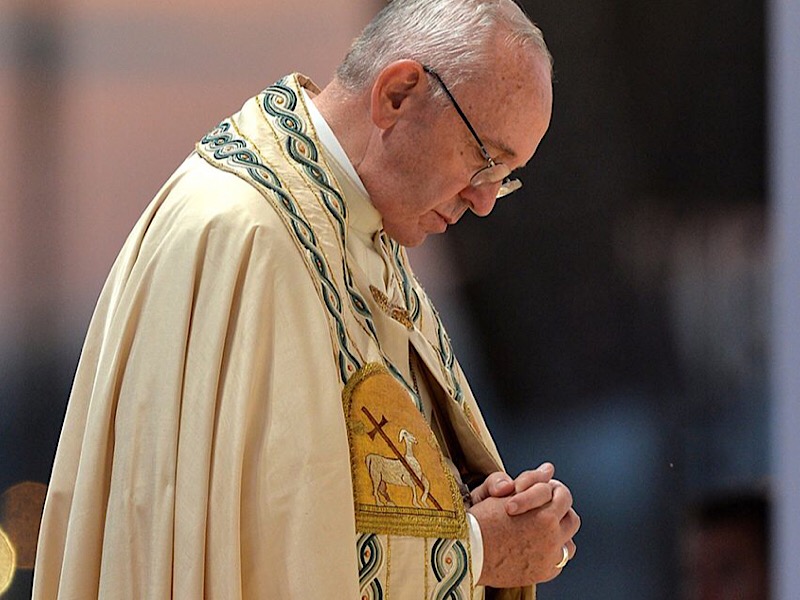 At this time of uncertainty and anxiety with our churches closed for public worship, Pope Francis called on the world's Christians and people of goodwill to join together to pray the Lord's Prayer on Wednesday, 25 March at 11am UK time (midday in Rome).
The 'Our Father' is the prayer Jesus taught his disciples and the first prayer many of us learned to pray.
Adoration and Urbi et Orbi blessing
Having prayed the Angelus on Sunday, Pope Francis also revealed that , he will prayed on the steps of St Peter's basilica on Friday 27 March at 5pm UK time (6pm Rome) . Although the square was be empty, there was be a period of Adoration and readings from Scripture.
Plenary Indulgence
At the end of the service, the Holy Father imparted his Urbi et Orbi blessing and offered a Plenary indulgence for the COVID-19 pandemic.
He asked that we join together to uphold the universality of prayer, compassion and tenderness.
Pope Francis encourages us to "remain united and make our closeness felt – especially with healthcare professionals and those who serve."
The Lord's Prayer
Our Father who art in heaven,
hallowed be thy name.
Thy kingdom come.
Thy will be done on earth,
as it is in heaven.
Give us this day our daily bread,
and forgive us our trespasses,
as we forgive those who trespass against us,
and lead us not into temptation,
but deliver us from evil.
For Parish Newsletter for Sunday 22nd March click HERE
National call to prayer Sunday 22nd March
We were invited to put a candle in our windows at 7pm as a symbol of the light of life, Jesus ChristThe church at Our Lady's was open until 6.30pm and a candle was lit.
You might wish to use the following prayer,
known as the PRAYER FOR ENGLAND.
O blessed Virgin Mary, Mother of God and our most gentle Queen and Mother, look down in mercy upon England thy "Dowry" and upon us all who greatly hope and trust in thee.
By thee it was that Jesus our Saviour and our hope was given unto the world; and He has given thee to us that we might hope still more. Plead for us thy children, whom thou didst receive and accept at the foot of the Cross, O sorrowful Mother. Intercede for our separated brethren, that with us in the one true fold they may be united to the supreme Shepherd, the Vicar of thy Son.
Pray for us all, dear Mother, that by faith fruitful in good works we may all deserve to see and praise God, together with thee, in our heavenly home.
Amen.
Updates
We will be updating this site regularly with more information and prayers, so please do revisit.
A Mass will be celebrated each day in the parish privately, for 'all God's people, living and dead'.
PRAYER IN TIME OF CALAMITY
Lord, have mercy on us Lord, have mercy on us
Christ, have mercy on us Christ, have mercy on us
Lord, have mercy on us Lord, have mercy on us
God the Father of heaven Have mercy on us
God the son, redeemer of the world Have mercy on us
God the Holy Spirit Have mercy on us
Holy Trinity, One God Have mercy on us
Be merciful Spare us, O Lord
Be merciful Graciously hear us, O Lord
From the dangers that threaten us Deliver us, O Lord
Lamb of God, who takes away the sins of the world Spare us, O Lord
Lamb of God, who takes away the sins of the world Graciously hear us, O Lord
Lamb of God, who takes away the sins of the world Have mercy on us, O Lord
Sacred Heart of Jesus Have mercy on us
Holy God, Holy Mighty One,
Holy Immortal One,
have mercy on us and on the whole world
Pray for us, O Holy Mother of God that we may be made worthy of the promises of Christ
PRAYER TO ARCHANGEL MICHAEL
Holy Michael, Archangel,
defend us in the day of battle;
be our safeguard against the wickedness
and snares of the devil.
May God rebuke him, we humbly pray;
and do thou, prince of the heavenly host,
by the power of God, thrust down to Hell
Satan, and all wicked spirits,
who wander through the world
for the ruin of souls. Amen